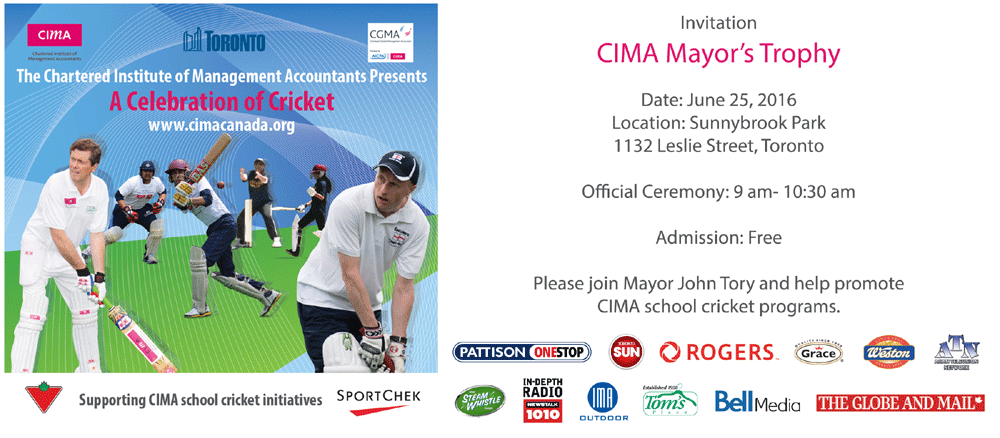 CIMA Mayor's Trophy (CMT) is CIMA Canada's feature community, corporate and media engagement event held annually in June. Launched in 2005 as a partnership initiative with the City of Toronto Parks, Forestry & Recreation Department the event is attended by the Mayor of Toronto, the Chief of Police, corporate CEOs, media personalities and prominent Torontonians to celebrate Toronto's diversity through the game of cricket. The event has grown in popularity and profile winning several international awards from the International Cricket Council (ICC).
CMT brings together a wide cross section of Toronto Communities through cricket. The event has attracted media, Transit, Finance and the Public Sector organizations to a unique Toronto celebration. CIMA Media Cricket Tournament is a component of the CIMA Mayor's Trophy and is a major media event in the City. Cricket teams from CBC, Rogers, Globe & Mail, Toronto Star, Toronto Sun, Citytv, OMNI TV and Metro News regularly take part in this annual event. The Public Sector cricket team includes the Mayor, City Councillors and Public Sector executives.
CIMA Accountants Trophy involves employee cricket teams from the big four accounting firms competing for the annual CIMA Accountants Trophy. Transit system advertising space from the event partners GO Transit and TTC help promote the event annually. The event is also advertised and promoted through CIMA's professional network of accountants worldwide.
CMT helps raise funds for CIMA youth cricket initiatives such as Cricket Across the Pond Scholarships and CIMA Mayor's School Cricket. For corporate sponsorship opportunities and tournament entries, please write to members@cimacanada.org